Cook County Lumber's product of choice. Premium quality products from the finest mills and technology in the industry ... Engineered to outperform.
PREMIUM PINE BOARDS
CENTURION AND CLEAR PINE
Claymark specialize in producing premium wood products, milled and manufactured to exacting standards and exported to the world. They use only the finest New Zealand-grown radiata pine, from carefully managed and certified plantation forests. Claymark won't settle for anything less than the best. Consistency and precision are ingrained in everything they do, and Claymark stake their reputation on the flawless quality of their products.
Claymark Centurion™
As the next generation in environmentally responsible finger-jointed pine, Claymark Centurion™ is precision manufactured from premium New Zealand radiata pine. It provides a perfect finish from every single board thanks to Claymark's uncompromising dedication to quality. If the end product is anything less than perfect, it never leaves the factory .
Claymark Centurion™ utilizes a treatment process called Tru-Core™ to extend the life of the wood. This water-based, eco-friendly treatment penetrates right to the core and has a proven history of performance. Centurion™ is also coated in a new-generation, water-borne protective primer to give state-of-the-art protection, prevent tannin and resin bleed, and provides better adhesion and flexibility.
Claymark Select Pine – Premium Class Solid Pine Boards
Claymark Select Pine is the product on which they have built their reputation for uncompromising quality. These premium class solid radiata pine boards are consistently graded to the highest standard in the industry. Available in 4/4 and 5/4, 2" through 12", Claymark clear solid boards are produced from the finest pruned logs grown in New Zealand.
If you won't settle for anything less than a flawless finish, trust Claymark wood products from New Zealand. Because when it comes to quality, there is no compromise.
For more information regarding Claymark, contact us or visit www.claymark.com.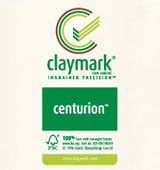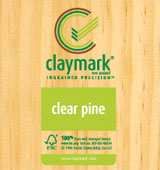 ENGINEERED WOOD PRODUCTS
ROSEBURG LVL / I-JOISTS
Roseburg is one of the largest Engineered Wood manufacturers, with nearly 70 acres and 500,000 sq.ft. in their facilities. Roseburg offers a complete Framing System built with quality engineered wood products for today's builder.
LVL Description
RigidLam LVL headers and beams, thanks to new technology and design, does a better job than traditional sawn lumber pieces. Roseburg's LVL's are stronger, stiffer, more consistent and more predictable building materials. RigidLam LVL is coated with a wax-based moisture repellent sealer that is formulated specially for LVL. LVL headers and beams can support heavier loads and allow greater spans than conventional lumber, making Roseburg Engineered Lumber very economical.
I-Joist
Roseburg's RFPI Joists are the ideal choice for architects and builders that want a high-quality product for their customers. I-joist is easy to specify for the architect and will not warp, twist, or shrink while also providing uniform dimensions. They can be cut and fastened with traditional framing tools and fasteners. Roseburg's I-Joists can be used at greater joist spacing, allowing builders to cut and handle fewer pieces. And with longer pieces and lighter weight, installation becomes more efficient with less time, costs and wastes. Roseburg's Engineered Lumber is the better decision for any builder's project. Cook County Lumber has a Preferred Dealer EWP program available, please contact your Sales Representative to learn more about our EWP program and how it can benefit you.
Contact us or visit www.roseburg.com for more information on Roseburg Engineered Wood Products.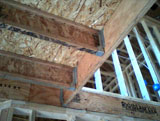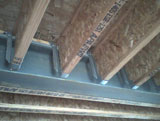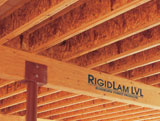 Open Joist designed a floor truss like no other, which provides the builder a versatile, open web alternative to I-joists, dimension lumber and fixed-length, metal-plated trusses. The benefits and features of the Open Joist include:
Speed of installation and superior load-bearing strength
Features an open web design for quick and easy installation of mechanical systems.
Trimmable ends to fit exact framing dimensions
Offers builders and homeowners a peace of mind with a lifetime warranty
Open Joist is a preferred supplier with Cook County Lumber EWP program. Stock is readily available in the following sizes: 11-7/8 " and 14", however if needed, 9-1/4" and 16" can be special ordered to accommodate your needs.
For more information contact us or visit www.openjoist.com.